WELCOME TO HALLOZEEN.RIP
News of the 8th annual zine launch for halloween-themed zines
---
---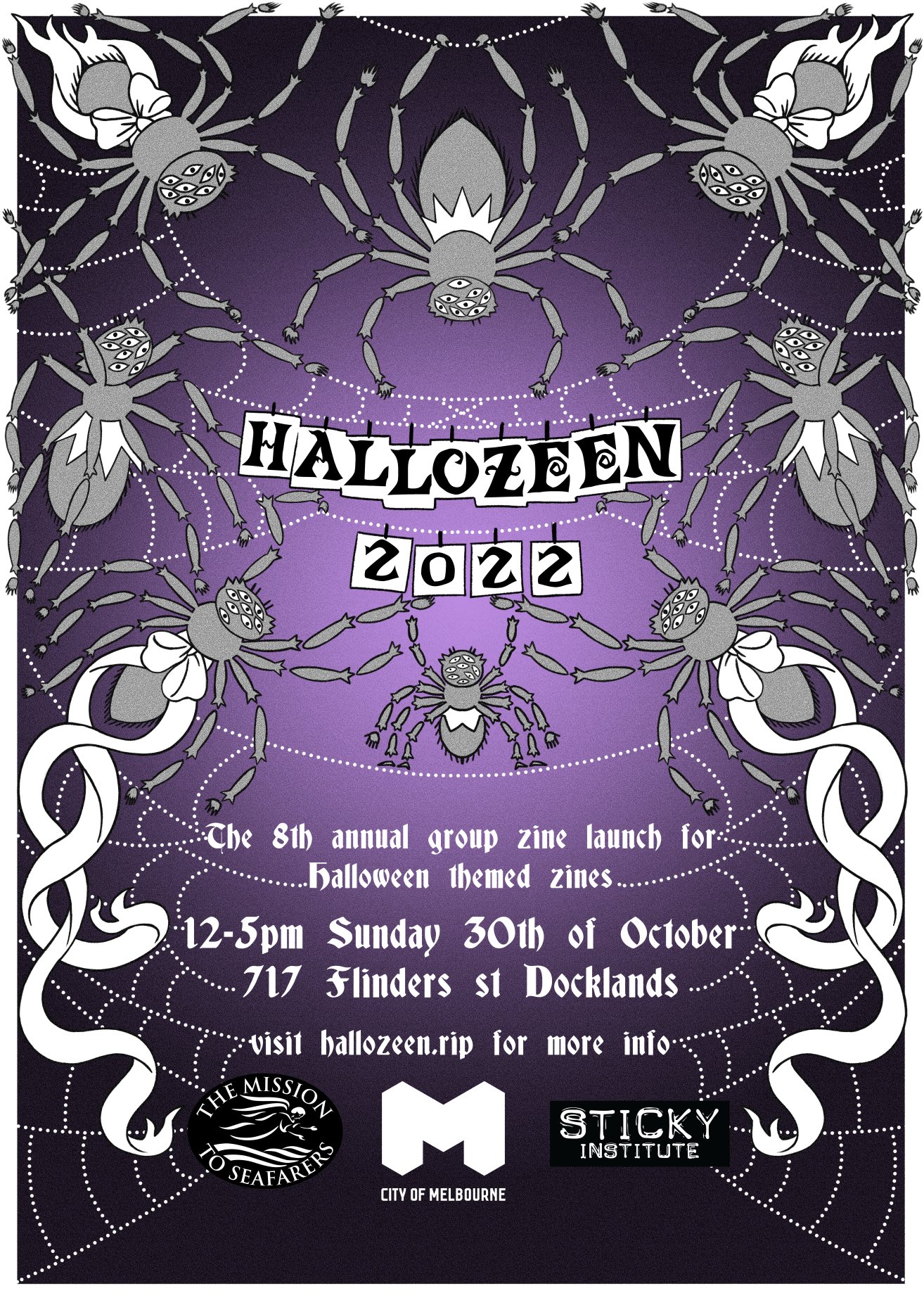 Free entry, family friendly
12-5pm
Mission to Seafarers
717 Flinders St
Docklands VIC Australia
---
Send in 10 copies of the hallozeen you make this year, get 10 hallozeens from other 2022 hallozeen-makers!

Zines must be posted to Sticky Institute by Oct 1st or submitted in person by Oct 14th.
---
---
Installation piece
@ Sticky Institute, floor 8
The Nicholas Building Swanston St
---
23rd of October
All Ages Workshop
@ Sticky Second Location
12-3pm

Chimeras are combination monsters. Shape-shifters can be many kinds of monster. Monsters are usually some kind of hybrid.

Create your own unfolding monster-maker Hallozeen of all your favourites.
---
We're looking for interviewees for the
Hallozeen starts online with zinemaker interviews, music and good times on Hallozeen'eve.

If you're a zinemaker with Halloween feelings, we'd love to interview you. Internationals welcome!
---
---
---
Visit the 2021 Hallozeen, see all the Hallozeens that launched, bring a friend, explore!
---
All the zines from previous years are archived here. Get some ideas, see what really makes this event special (it's the zines)
Tag #hallozeen if you'd like your hallozeen featured
---

$9+p&h

Assembled by Sticky Institute: A bumper pack to get you started on a collage zine! Halloween images, interesting colours and textures to assemble as your heart pleases.
---
Got questions?
We've got answers!
---
---
Hallozeen 2022 is made possible by volunteers, zinemakers and the City of Melbourne.
---